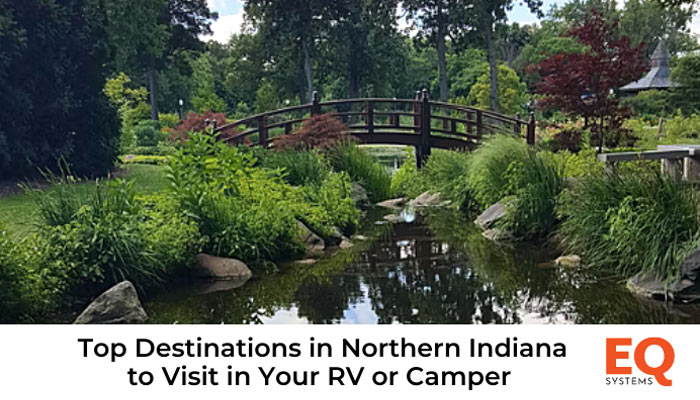 Sitting close to the crossroads of America, Northern Indiana is easily accessible from major northern highways and population centers. The route east from the Chicago metro area to the Ohio border is full of idyllic camping areas, beachside fun, cultural activities, historic sites, and unique, world-class dining experiences.
Whether it is your ultimate destination or a delightful stopover to enjoy family fun, Northern Indiana offers something for everyone in beautiful settings with plenty of perfect spots to park your camper or motorhome.
Here are a few of Northern Indiana's many attractions and points of interest.
The Indiana Dunes National Park
While Chicago's Loop is only an hour's drive away, the Indiana Dunes along the southeast shore of Lake Michigan seem like an entirely different world. The Indiana Dunes National Park offers 15,000 acres of natural landscape and 15 miles of beautiful sand beaches. This makes it the perfect location for unspoiled wilderness adventures in your RV or camper.
Besides a nearly endless variety of daily adventures, the park features a vibrant arts scene, a historic opera house, and even an old-fashioned drive-in movie theater.
Be aware that campsites at the Indiana Dunes Campground require reservations, so make your plans well in advance.
Michigan City Lighthouse and Pier
Less than ten miles east of the Indiana Dunes is Michigan City. This lakeside community features soft sand beaches and a museum that celebrates Michigan City's nautical past. As you stroll the sandy beach, you can view Indiana's last operational lighthouse, the East Light.
Take the time to visit the fascinating museum within the old Michigan City Lighthouse, which was once the principal beacon on this part of Lake Michigan.
Blue Chip Casino Hotel and Spa, Michigan City, Indiana
Walking distance from the Michigan City Lighthouse Museum is the elegant and exciting Blue Chip Casino Hotel and Spa. Spend an evening enjoying the fun and excitement of gaming. Or relax and partake in the musical entertainment and excellent dining that the resort offers.
Here you can treat yourself to a relaxing whirlpool, steam room, and fitness center escape. It is the perfect way to rejuvenate yourself with a relaxing interlude while on the road.
Heritage Trail of Elkhart County
Consider escaping the Interstate and travel through time with a scenic and nostalgic adventure through Northern Indiana. The Heritage Trail passes through several idyllic small towns and vast open spaces. This drive features approximately 90 miles of scenic sights and fun adventures that encourage travelers to stop and take a closer look. The Heritage Trail is a perfect travel option for those in an RV or camper.
Along the way, travelers will come upon beautiful views and historic sites. These are highlighted by the vibrant and interesting Amish communities featuring artisan shops offering high-quality handmade goods.
Don't forget to stop and support local restaurants offering traditional foods, delicious pies, and desserts.
Elkhart's Gateway Mile
Make Elkhart a part of your Northern Indiana travel itinerary. This is a delightful city in north-central Indiana. Elkhart boasts a beautifully rejuvenated sector of the city known as the Gateway Mile. With the 36-acre Wellfield Botanic Gardens at one end and the magnificent Vincent DePaul Catholic Church at the other, the Mile features trendy shops, cafes, coffee houses, and brewpubs. You can also enjoy live performances at the nicely restored Lerner Theater. The Elkhart Campground is also a great place to park up, with many amenities including a swimming pool.
Also headquartered in Elkhart is EQ Systems, a designer and supplier of advanced comfort and convenience accessories for RVs and campers. Those who explore in their motorhomes or camper trailers know the challenges of finding a perfectly level spot to park. Nature was not designed for keeping our sleeping and eating surfaces perfectly horizontal without help. However, EQ Systems offers leveling components to help. These options are economical, adaptable, easy to install, and easy to operate. So, while you enjoy Elkhart, Indiana consider upgrading your RV leveling systems to make the rest of your trip even better.
Contact EQ Leveling Systems
The professionals at EQ Systems in Elkhart, Indiana, can help you find the correct hydraulic lifting and leveling system for your RV. These systems make camping comfortable while reducing the strain on RVs and trailers caused by parking on uneven sites.
One product, the Stabi-Lite Electric Stabilizing System, is specifically designed for Class C and Class B motorhomes and eliminates coach lean when the slide out is extended. It also works with a simple one-touch operation.
Check out EQ Systems' website to learn about all of the accessories designed to make your trip through Northern Indiana or anywhere else easier.
If you have questions about any of EQ Systems' leveling products, call EQ at 1-800-846-9659.