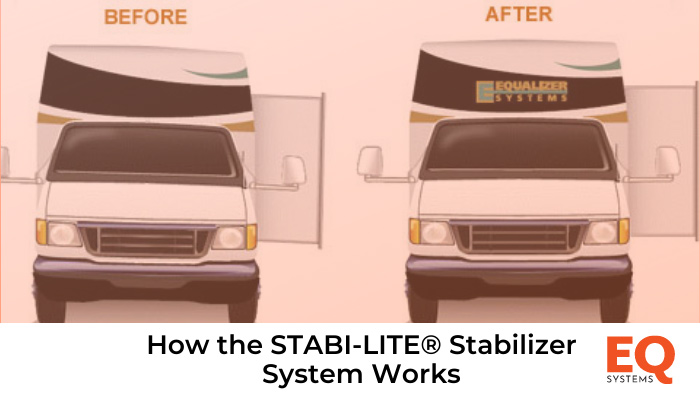 After parking your Class C or Class B motorhome for a relaxing overnight stay and extending your slide room, do you notice leaning and swaying? This all-too-common annoyance is usually not noticeable until you begin walking about inside the camper after you extend the slide room.
EQ Systems of Elkhart, Indiana, offers the STABI-LITE® Stabilizer System. This product is for Class C and Class B motorhomes. Not only are they easy to operate, but this system eliminates the inevitable leaning that occurs once you fully extend the slide room. The STABI-LITE system helps to eliminate the sway that often occurs as occupants move throughout the coach.
The STABI-LITE Stabilizer System from EQ Systems is designed to fit the Ford E-350, Ford E-450, or Chevrolet C-5500 chassis and Sprinter Class C chassis.
A STABI-LITE Stabilizer System comes complete with:
2 stabilizer jacks
Clamping mounts
Hardware for mounting
Complete wire harnesses
System controller and switch pad
The entire system with two stabilizing jacks weighs less than 80 lbs.
What are the Advantages of the STABI-LITE® Stabilizer System?
The system stabilizes and levels your motorhome with your slide room extended. Therefore providing greater comfort and enjoyment. Furthermore, the STABI-LITE Stabilizer System has these additional benefits.
Employs a low-profile design that decreases the required height between the ground and the bottom of the vehicle.
The clamp-style mount eliminates the need for welding or drilling.
Chassis specific design to minimize installation time and ensure stability.
One-touch automatic operation
Easy-to-Use
The plant pressure is adjustable by the end-user to assure proper stability. Each system comes with Installation and Operation Manuals to ensure proper and safe implementation.
Contact EQ Systems
EQ Systems is a premier supplier of lifting and leveling solutions to make camping and life on the road more enjoyable. EQ Systems' product line includes options for motorhomes, 5th wheels, horse trailers, motorsports trailers, and custom solutions. With the EQ Harness department, they now offer custom wire harnesses and battery cables as well.
To view EQ Systems' extensive range of products and services, visit their website at https://eqsystems.us/. You may also call +1-800-846-9659, and one of the EQ experts will be glad to answer your questions.
***MUST CHECK FITMENT BEFORE PLACING AN ORDER OR EMAIL US AT GETLEVEL@EQSYSTEMS.US OR CALL US AT 800-846-9659***
CLICK HERE TO CHECK THE FITMENT