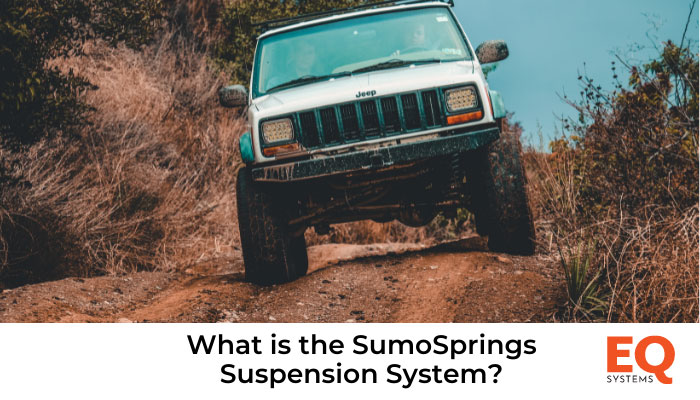 The world's most majestic sights and perfect camping areas are not always accessible via a smooth, beautifully graded roadway. It can also take a long drive to reach most of these idyllic spots.
Unfortunately, pounding along rough and potholed roads in your heavily laden motorhome can be a jarring experience for both the passengers and your vehicle. Besides the personal discomfort of the passengers, motorhomes and truck-mounted campers can experience excessive sway and rear sag along with those jaw-crunching bumps. These can severely compromise the stability, control, and drivability of your dream home-on-wheels.
However, worry no longer and get ready for a smoother journey. The perfect solution for bolstering the suspension of your truck or van camper is the SumoSprings® Suspension System by SuperSprings® International, Inc.
What Does the SumoSprings Suspension System Do?
Created and produced by SuperSprings International Inc of Carpinteria, California, SumoSprings is a revolutionary suspension system. It provides effective bump softening while providing an air spring-like buffer. The system can not only improve driver control but also passenger comfort. SumoSprings can also help enhance load-carrying capabilities, stabilize sway and reduce road vibration. They have excellent temperature resistance and can support loads up to 10,000 lbs per pair.
Each SumoSpring set is fabricated from closed-cell micro-cellular urethane with infused air. This is designed to compress and lessen the harshness of the ride and smooth out the bumps. The units are entirely maintenance-free when correctly installed.
Safety and Stability Provided By SumoSprings
Like a shock absorber, the SumoSprings Suspension System is sold as a pair. They mount on both the left and right sides, providing damping or controlled compression to soften the impact of the road surface without the need for air lines or compressors.
SumoSpring sets are available in a range of heights, thicknesses, and densities to fit multiple front and rear applications.
They can also compress up to 80% of their original height and rebound completely. Their design also ensures they never leak or rupture, providing a long-term solution for your vehicle. Additionally, they offer a progressive spring rate with superior damping performance.
Installing the SumoSprings System
Installation of the SumoSprings units involves attaching the no-drill steel brackets and mounting hardware, bonding them to the top and bottom mounting plates. The design does not restrict wheel travel and will not affect your ride when you remove extra weight. Additionally, the system design ensures the regular rear axle flex is not hindered at all. This is a significant advantage when the vehicle goes off-road.
SumoSprings System from EQ
EQ Systems of Elkhart, Indiana, provides state-of-the-art lifting and leveling systems for RVs and camping trailers. Currently offering front SumoSprings sets from SuperSprings International Inc, EQ's selection includes the SSF-106-40, designed for use in:
1970 to 2014 Ford E150 2WD
1970 to 2014 Ford E250 2WD
1996 to 2018 Ford E350 2WD
1996 to 2018 Ford E450 2WD
2007 to 2017 Mercedes Benz Sprinter 2500 2WD
2007 to 2017 Mercedes Benz Sprinter 3500 2WD
The specifications for the SSF-106-40 are:
Weight: 3 lbs.
Dimensions: 10.75" x 7.25" x 4.5"
Capacity: 500 (lbs.) at 50% capacity
Height: 4"
Diameter: 3"
To learn more about this breakthrough accessory and many other safety and vehicle performance-enhancing components, visit EQ System's website, or you can call the professionals at EQ Systems in Elkhart, IN, at 1-800-846-9659.