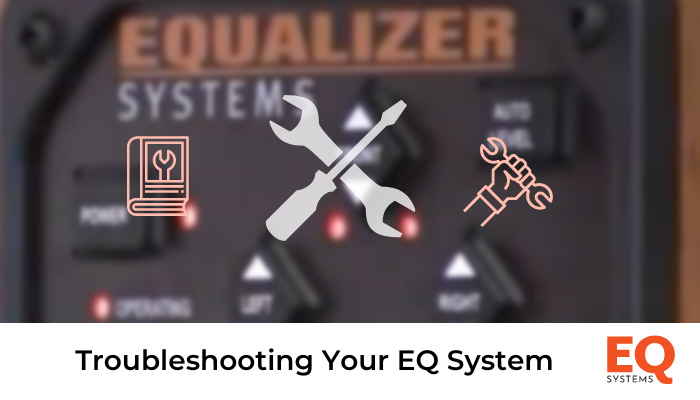 EQ Systems of Cassopolis, Michigan, offers quality hydraulic and electric lifting and leveling, and stabilizing systems. These systems are perfect for RVs, horse trailers, motorsports, and commercial applications.
With a clear focus on offering easy-to-operate, reliable, and comfortable leveling equipment, EQ Systems are the answer to leveling needs. You can use them on any motorhome, fifth wheel, or travel trailer on the road, including retrofitting a Class A RV leveling system.
Tips for Troubleshooting Your EQ System
When problems occur, consulting your Systems Manual should be your first move. However, some simple checks and adjustments could resolve some commonly occurring issues.
Should an occasion occur when your EQ System does not seem to be operating correctly for whatever reason, try these simple adjustments first:
Control panel will not power up
So you park your RV in your perfect spot, and you try to activate the leveling system, but the Control Panel does not activate.
Solution: Check whether the power indicator light turns on when you press the power button. If not, then you can assume you have a power supply issue.
It is possible that the harness that connects the keypad to the controller may be defective. However, first make sure the RV is receiving power from the vehicle's battery. The Battery Disconnect Switch should be OFF. If the switch is set correctly, the systems should be receiving power. If not, the problem may be in the controller.
You may test the system with a voltmeter if one is available. If electricity is not passing through, a replacement keypad and controller may be needed.
Jacks are not retracting
Retracting is the "other" important step of using your leveling system. If you are ready to leave your excellent camping spot, but your jacks won't budge, there are a few things you can check.
Generally, there are five common reasons your Equalizer Systems jacks might not be retracting correctly. You may be experiencing the following:
Low battery voltage
Incorrect hose connection at pump or jackleg
If your system is equipped with a Uni-rotational Pump, the DV 1 valve/coil/wire circuit may be defective
If you are equipped with a Bi-rotational Pump, the motor or solenoid may be faulty
Defective keypad or controller
Solution: Check your battery voltage and inspect your hose connection. You might need to replace the pump motor or solenoid. If these do not solve the problem, you should call the EQ Systems Service team directly to walk you through fixing your defective keypad.
If the bi-rotational pump is the problem, you may be able to solve your issue by manually overriding the pump temporarily. You will need a hex key and to know where your pump is on your coach. This video offers a step-by-step solution for this issue.
Setting a New Level or Null Position
Looking to change the set level or reset the "null" position due to movement in the vehicle position?
Solution: Changing or setting a new level or "null" position on your EQ System leveler system is a straightforward problem. Besides consulting the Owner's Manual and a Step-by-Step Video, users who notice their vehicle's position shifting can reset the system keypad to initiate leveling.
First, ensure your coach is level by manually leveling and using a level to verify. Then hold down the "Auto Level" button and push the power button at the same time. Hold down the "Auto Level" for about five beeps and then release. Your new auto-level will now be set!
Always Be Prepared
EQ Systems are durable, reliable, and accurate. But like any equipment, owners must familiarize themselves entirely with the operations of their system. Read the Owner's Manual thoroughly and familiarize yourself with various potential Troubleshooting issues. Note the tools that may be useful for quick fixes, and make sure you have them in your vehicle.
Most importantly, always keep the phone number for EQ Systems' Service Department handy, so you can call to discuss issues that may arise. The number is 1-800-846-9659.
You will also find all Manuals, Videos, Guides, and other Troubleshooting information on the EQ website at https://eqsystems.us/service-and-support/.