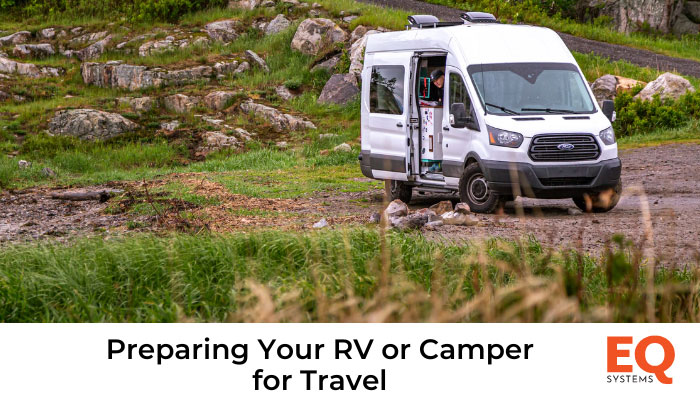 One of the most important considerations for any RV or camper outing is ensuring everything is in place and working before you leave. You can avoid unnecessary and sometimes expensive disruptions to your vacation plans easily. Simply ensure you have all the right equipment on hand and that everything is functioning as it should. Consider the equipment below when preparing your RV or camper for travel.
Install EQ Smart Leveling Systems for Ford Transit Class B+ RVs
If you are driving one of the now-popular Ford Transit Class B+ RVs, a critical way to ensure your outing will be comfortable is by installing and maintaining the best leveling equipment from EQ Systems of Cassopolis, Michigan.
As experienced campers know, the best destinations are not necessarily flat. Therefore, easy-to-operate leveling equipment becomes essential for campers and families to enjoy their stay in comfort.
EQ Systems installation technicians are fully trained and equipped for installing and repairing a wide range of hydraulic lifting and leveling systems across the full range of segments.
Your system can be quickly installed by the professionals at EQ Systems. With factory installation, owners are assured of correct functionality and safety.
Stabi-Lite® Systems
In addition to leveling systems, EQ Systems offer a full range of factory-installed Stabi-Lite Systems.
Advantages include:
Elimination of coach lean when extending the slide
Clamp-style mount that requires no welding or drilling to install
Convenient, one-touch automatic operation
Eliminating nearly all sway resulting from coach movement
A low-profile design that decreases the height required by traditional systems
Less than 80 lbs of weight are added to your vehicle
Chassis-specific design that reduces installation time
MSRP is only $825.00 (excluding, tax, shipping, and handling, or any installation costs)
While in Southwest Michigan, Check This Out
Since EQ Systems is in Cass County, only a few miles north of the Indiana border, we are very familiar with the beautiful sights and activities of Southwest Michigan.
Bordered on the west by magnificent Lake Michigan, Southwest Michigan communities on the water include Benton Harbor, Stevensville, and St. Joseph. Besides the sandy beaches and well-maintained parks, visitors can enjoy an eclectic array of fine restaurants, breweries, wineries, distilleries, and more.
For RV and camper trailer campers, the Southwest Michigan area offers a wide range of RV campgrounds. Since one size does not fit all, prospective visitors should research their preferences in advance to ensure the amenities and locations are what they are seeking.
Scattered along the western shore as far north as Muskegon, many popular RV parks offer an array of conveniences. Some of these include:
Coloma/St. Joseph KOA Holiday near Benton Harbor
Dune Lake Campground, Coloma
Warren Dunes State Park, Sawyer
Covert Park Beach and Campground, Covert
Weko Beach Campground, Bridgeman
Must See Attractions in Southwest Michigan
Northern Indiana and Southwest Michigan offer a great variety of places to visit and explore. From the University of Notre Dame and the RV Hall of Fame to the Lake Michigan Shore Wine Trail & so much more!
Here are a few suggestions from Trip Advisor:
South Haven, Michigan, is situated on Lake Michigan, approximately halfway between Benton Harbor and Grand Rapids. This historic South Haven Lighthouse stands invitingly at the end of the South Pier, serving as a beacon for passing watercraft since the late 1800s. The location is also a magnificent spot for watching the sunset over Lake Michigan.
Silver Beach County Park and Carousel, St. Joseph
Located near St. Joseph, Silver Beach County Park is a terrific place to swim and picnic and has a gorgeous view at sunset. Many visitors enjoy the park during the off-season when the crowds are less, and the scenery is still spectacular. For a little "man-made" entertainment, Silver Beach's Carousel is a must-see attraction with 48 individual hand-carved carousel figures.
Sarett Nature Center, Benton Harbor
If you want to see nature at its best, head to the Sarett Nature Center for a day. The Center includes eight miles of trails set in 1000 acres of wetlands and wildlife, forests, and marshes, with boardwalks and observation platforms to keep you from getting your feet wet.
So Much More…
Besides the great camping, swimming, hiking, and excellent food and drink, Southwest Michigan has a Maritime Museum in South Haven, Four Winds Casino in New Buffalo, Kai Haven Hiking Trail near South Haven, and more.
Contact EQ Systems for Factory Installed Leveling Equipment for Your RV
Make sure your RV or trailer is equipped with the best and most reliable leveling systems before heading out for your next adventure.
EQ Systems' are state-of-the-art and reliable. To learn more about this innovative equipment, visit the EQ Systems website. If you have further questions or want to schedule an appointment, you can call EQ Systems at (800)-846-9659.