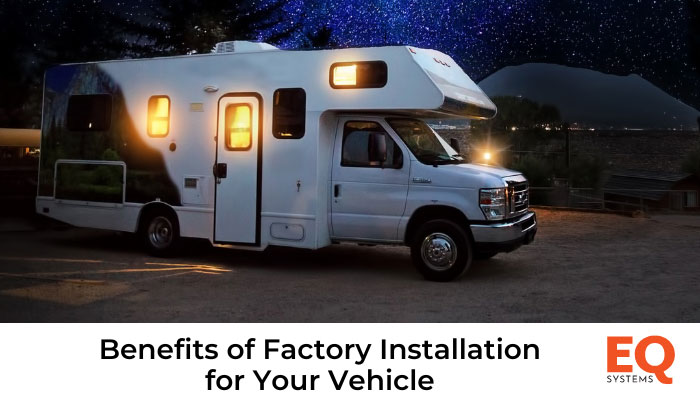 Suppose you park your RV in that perfect, idyllic spot where you are finally ready to begin that long-awaited escape from the hassles of work and the city. The parking spot is decidedly uneven, but no problem. You have already installed a set of high-quality, reliable levelers yourself to save money, and you are ready to activate. However, the levelers refuse to operate. An even worse scenario might be to reach the end of your trip and prepare to deactivate those levelers, but they refuse to cooperate. This is one of the reasons why you should consider factory installation for your vehicle.
EQ Systems' Factory-Installed Levelers and Trailer Jacks
Levelers for RVs and campers are highly technical devices. Thus they require coordinated and synchronized components to operate correctly. Most people do not know the requirements to lift and level their RV or trailer accurately. And they often don't understand the procedures to install the systems safely.
As importantly, self-installation of equipment forfeits the equipment's Service Warranty that comes with products. Therefore, the expense of repairing the system falls on the responsibility of the owner. The cost and hassle of fixing the operational problems, mainly if they occur while on the road, could be mind-blowing. However, certified factory installation keeps the warranty intact, saving you money.
Having EQ Systems Factory Install Your Leveling Systems and Trailer Jacks
EQ Systems in Cassopolis, Michigan, offers factory installation for OEMs, dealers, and retail customers. Before release, clients can be assured that the equipment has been successfully installed and tested precisely as the manufacturer intended.
As a result, of factory installation for your vehicle, customers will:
Save time and money.
Avoid unexpected crises.
Know that the equipment installation is correct for the vehicle.
Be confident that everything will work when needed.
Know that if problems arise, the product warranty and service guarantee will cover the cost of corrections.
At EQ Systems, customers can select the correct lifting and leveling equipment for their RV or trailer. Then the team can perform the installation precisely as required.
EQ Systems offers a broad menu of hydraulic lifting and leveling systems and electric stabilizing options for the RV, horse trailer, motorsports, and commercial industries. These proven, experienced professionals offer leveling solutions for any motorhome, fifth wheel, or travel trailer and can even retrofit Class A RV leveling systems for better performance.
Visit the EQ Systems' Website to View the Available Products and Accessories
To be a complete resource for the full range of vehicles in the category, EQ Systems maintains a vast inventory of parts and accessories for each vehicle category. Groups include:
Motorhomes, Classes A & C, gas or diesel
Fifth Wheels
Travel Trailers
Horse Trailers
Commercial Vehicles
Motorsports and Cargo Trailers
Plus SnapPad products, harnesses, and more
Factory Installation by EQ Systems
EQ Systems has the expertise, experience, tools, parts, and measuring and testing equipment to ensure a proper installation.
Stay confident that your equipment will work properly when needed and make the next outing a stress-free experience.
Learn more about EQ Systems and their extensive capability by visiting their website.
If you have any questions, call EQ Systems of Cassopolis, Michigan, at (800)-846-9659.