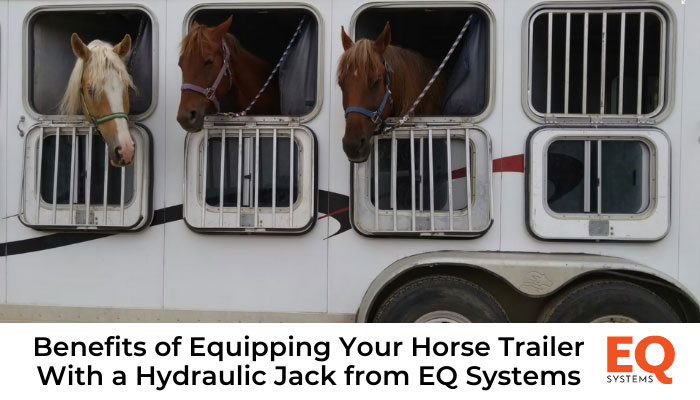 Disconnecting a trailer from a pick-up truck hasn't always been a straightforward process. Manual jacks partly solve the problem by allowing you to crank the trailer off the truck, although not everyone has the strength to crank a large trailer. Moreover, cranking takes a long time and requires extra vigilance to avoid accidents. Not anymore! You can now disconnect your trailer effortlessly with a hydraulic jack from EQ Systems.
Simple, efficient, and easy to use; a powered hydraulic jack allows you to disconnect your trailer in seconds, all without needing to crank a lever. Instead, simply push a button and watch as the trailer disengages from the truck.
This comes as great news for horse lovers. If you regularly use your horse trailer, whether for rides, camping, or trips, an EQ Systems hydraulic jack makes the experience even more enjoyable. It cuts down the time it takes to get ready for take-off and allows you to bring out your horse faster.
How it Works
With a traditional crank jack system, the user manually cranks a gear drive mechanism that extends and retracts the jacks. This style of jack system can be very labor-intensive to operate and may get harder to operate as the jacks get old and worn.
A hydraulic jack system replaces manual labor (hand cranking) with a powered hydraulic pump. Thus, you only need to press a button to raise or lower the trailer.
Benefits of the EQ Systems Hydraulic Jack
A hydraulic jack from EQ Systems is the perfect lifting solution for a horse trailer because it's:
1. Simple and efficient
Unlike the conventional approach that involves cranking a jack to disconnect the trailer, you can now disconnect the trailer with the push of a button thanks to the EQ Systems hydraulic jack. This effectively cuts the time to prepare for trips and allows you to start sooner once you're at your destination. It also reduces the effort required to disentangle the trailer.
2. Anyone can disconnect the trailer
Previously, you needed sufficient power in your arms to disconnect the trailer. This made the task a little challenging, especially for women and younger people. An EQ Systems hydraulic jack finally solves this problem. Anyone who can press a button can now disconnect a horse trailer.
3. Easy to install
The EQ Systems hydraulic jack is simple and straightforward to install. Better yet, anyone with basic knowledge of trailer jacks can install it. Simply unbolt the manual jack on the trailer and bolt on the new automatic jack. From there, all you need to do is hook up the hoses from the pump to the legs and run the wires to the battery. Make sure to fully purge the jack(s) before use.
4. Minimal maintenance
Finally, EQ Systems hydraulic jacks, like any other hydraulic system, are economical and straightforward to maintain. As long as you keep the moving parts lubricated, your work is pretty much done. However, don't worry if you've never owned such a system before. One of the best things about EQ Systems is our customer support. The company has dedicated service tech staff and a network of dealers across the country to help you every step along the way.
Contact Us
EQ Systems, formerly Equalizer Systems, has been around since the 1990s. We provide lifting and leveling solutions for the RV, horse trailers, motorsport trailers, and custom markets. Additionally, we offer custom wire harnesses for many industries. Visit us at EQSystems.us today to find the right system for you.