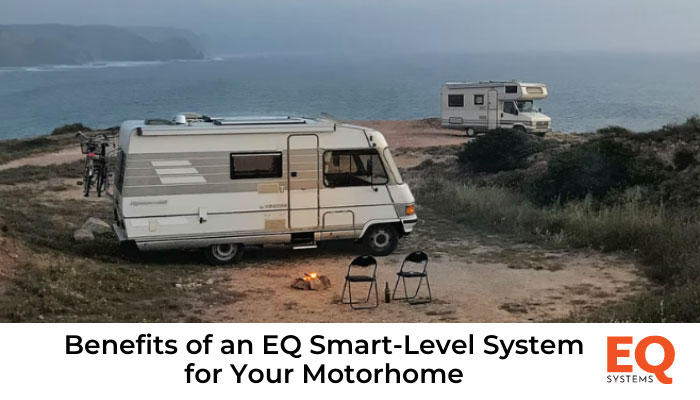 There are many risks and issues with parking your motorhome on a slanted surface. For starters, the obvious inconvenience of maneuvering within your motorhome and having items slide around. Also, consider the sloping may cause damage to various components of your RV. This is why you should install and use an EQ Smart-Level system to keep everything level when parked.
What Can Happen When Your Motorhome is Not Level
Ensuring that your motorhome is level when parked for an extended period is crucial. Besides the personal discomfort and inconvenience, your motorhome can also incur several structural and component issues. These often demand costly repairs and replacements.
Below is a short list of potential problems parking on a non-level surface can create:
Stress on the Frame and Overall Structure
Uneven or non-level parking spots may create a "twisting" effect throughout the vehicle's overall structure. The torque caused by uneven weight distribution imparts unwanted stress on the chassis, door frames, and plumbing. It can even affect the cupboards and other fixed accessories. Leveling your motorhome while stationary reduces potential repair costs and can extend the life of your RV.
Compromised Refrigerator Performance and Safety
Many new motorhome owners are unaware that the refrigerant fluid within their refrigerator cannot circulate when held in a tilted position for extended periods. Gravity causes the liquid to collect to one side, thus causing the motor and pump to flood or starve. Starving causes the pump to overheat, eventually causing irreparable damage. Some RV refrigerators have even caught fire due to overheating.
In many instances, you may need to completely replace the refrigerator motor and pump or even the entire unit.
Faulty Fluid Gauge Readings
Fluid level meters are designed to give accurate readings while your vehicle is relatively level. Thus, it is not surprising that fluid gauges will be substantially inaccurate while leaning several degrees in any direction. The readings might appear much higher or lower than reality. Ensure that you always check the readings while on level ground.
Slide Outs Will Not Work Properly
The slide out sections of your motorhome were invented to extend living areas providing occupants with additional living space. However, these are only supposed to operate on a level footing, essentially perpendicular to the surface. Operating these on a non-level foundation places unintended stress on specific points of the slide out room. This causes wear and tear that limits their functionality. The additional stress can also cause the joints to wear and possibly break. Repairing these is a significant operation and expense, which can drastically increase if it breaks while extended.
EQ Systems: Making Sure Your Motorhome is Level
It is not always possible to find a level site at your dream location. However, EQ Systems offers an extensive group of specially designed leveling systems compatible with a range of motorhome models. These include;
Class A EQ Smart-Level 4-Point Systems (including Diesel)
Class C EQ Smart-Level 4-Point Systems for Ford, Chevy, Mercedes Sprinter
Jayco Redhawk EQ Smart-Level Systems 2015 and newer
Stabi-Lite® Electric Class C Ford E-350, Ford E450, and Chevy 5500
Stabi-Lite® Electric Sprinter Class C
The EQ Smart-Level system for motorhomes uses the vehicle's battery to power the hydraulics. Users control the leveling process by using a simple keypad to manage all four levelers in auto level mode.
Once the power is turned to ON, using the AUTO Mode will adjust the levelers until the motorhome reaches a level orientation. It then emits two beeps signaling the motorhome is level. Pressing the OFF Button will turn the system off.
To retract the levelers when preparing to move the vehicle, simply press the All Retract Button, and the process reverses. Easy to use and maintain, installing an EQ system is a smart decision for any motorhome owner.

The EQ Smart-Level system is a key component to extend the use of your motorhome. Not only can this investment save you money in the long run but also helps you be more comfortable during your trip.
EQ Systems, formerly Equalizer Systems, has been around since the 1990s. We provide lifting and leveling solutions for your RV or motorhome needs. Visit us at EQSystems.us today to find the right system for your motorhome and stop additional wear and tear.