EQ Smart-Level System
Fitment for #8757UPS
SUPPORT DOCUMENTS
EQ SYSTEMS SUPPORT
Phone: 1-800-846-9659
Also note:
All warranty authorization must come from the EQ Systems warranty department.
All EQ Systems hydraulics systems use Dexron ATF Fluid.
*Info needed for tech support: Vehicle year, make, model, floor plan. EQ pump model number, touchpad number, etc. Also original date of retail purchase, if warranty.
Fitment for Mercedes Sprinter Chassis 2018 & Older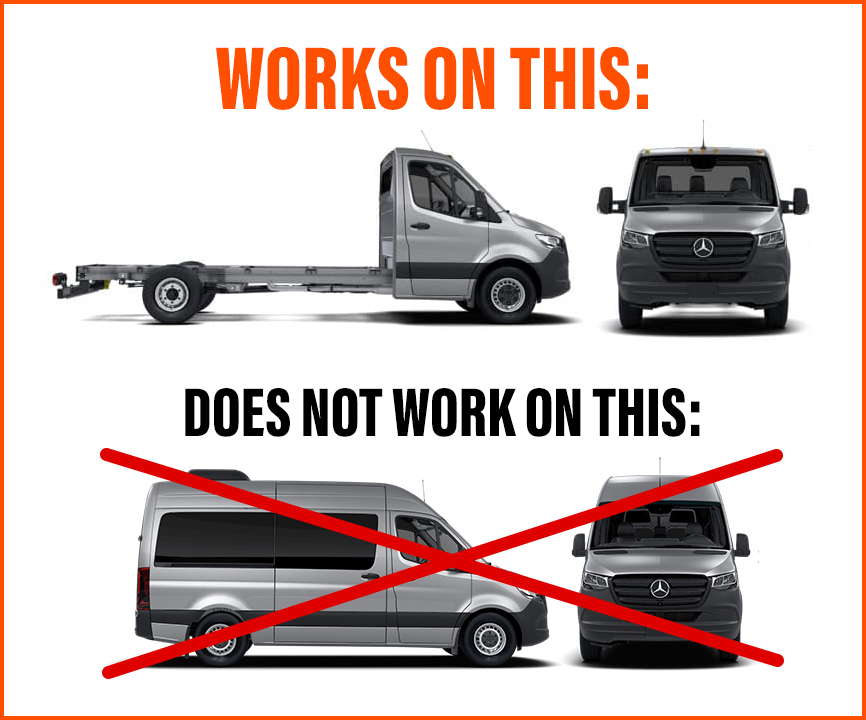 *Typical pump placement is in the first cubby on the driver's side. That is how we designed the hose kit. If you are mounting the pump in a different location, please indicate this on your order so we can customize your hose kit.*
*Battery Type and Size A minimum group 24 RV/marine-type battery is recommended. Battery rating should be a minimum 100 RC (Reserve capacity) with a 500 CCA (Cold Cranking Amperage). The higher these numbers the better. Common types are flooded lead acid, Gel, and AGM (Absorbed Glass Mat). Note: Some lithium batteries are not suited for this application. As they cannot provide the high running amperage and surges. Check with the battery supplier/manufacturer for info on this. *
Please note: Installation of our EQ Smart-Level system is intended to be performed by someone that is familiar with hydraulic, mechanical, and electrical systems, in addition to workplace safety. Installation will require ramps/vehicle lift.