Customer Reviews
Equalizer Systems is the Industry's Leading Manufacturer of Lifting and Leveling Systems.
Just a quick note to thank you and everyone at Equalizer Systems. GREAT customer service. I arrived a few minutes early and walked up to the first person I saw on the shop floor — gave him my name and he said they were expecting me and they would have us in the shop in just a few minutes. He went on to explain it would take around 5-6 hours but that we would definitely be out of there by 2:30 as that is the time they knock off for the day. Came back a couple of hours later and spoke to a nice young lady at the customer service area office. Gave her my name and she knew exactly who I was, what the current status of the install was and when it would be ready for pick up (approximately). Gotta tell you, now a days it's more likely to get the "deer in the lights look" from customer service personnel than any real help or info — especially as it applies to RV's. Didn't get anyone's name but Fred's, wish I had. Fred did a great walkthrough of the system operation and talked at length about preventative maintenance (what little there is) recommendations. Couldn't be happier with the leveling system and with your organization. Sorry we missed you, but hope you had a great day off. Once again, thanks for a great service and buying experience. Please pass our comments to your management and our thanks to you workforce.
Jeff & Tere Lachenmyer
Greetings from Lake George. This premium site at a very pricey RV resort was seriously unlevel. If I had to use plastic blocks I would have never got the job done.
But I went to Elkhart and shelled out $3,700 for the Equalizer system and no problemo. I've had them working on my inclined home driveway for two weeks. But now the real world test. Leveling front to back and side to side perfectly required less than 3 minutes and I did it with my cell phone from a camp chair. If your thinking about any difficult RV sites I would absolutely recommend this system. Note the front left wheel is completely off the ground. But the RV is seriously stable and seriously spot on level.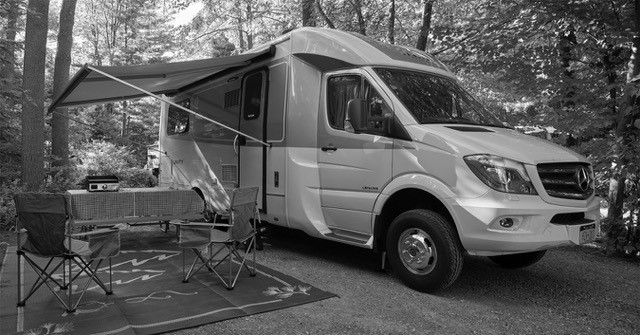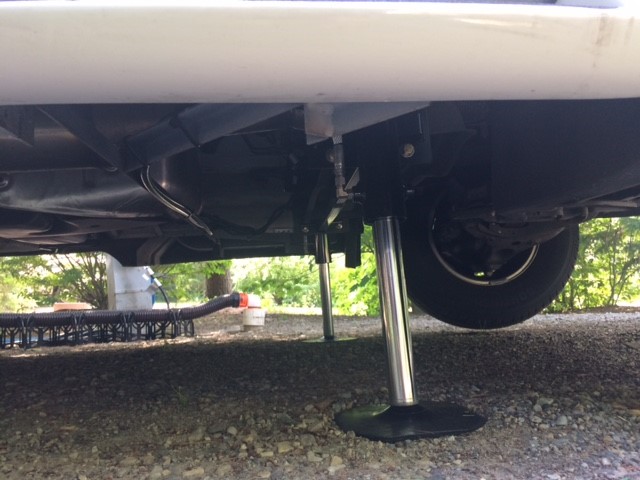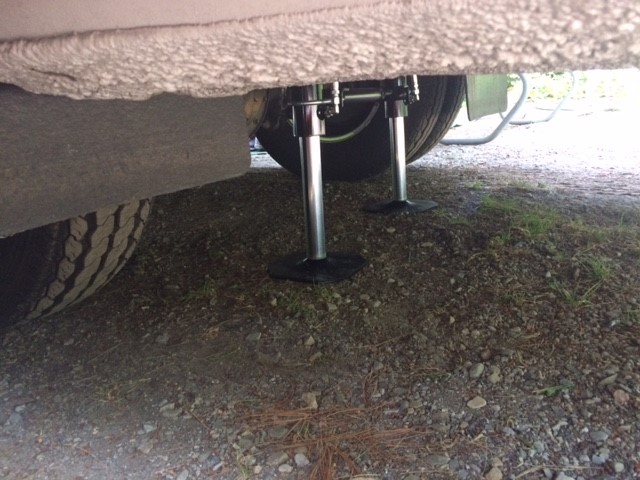 David-Moog-Review-July-2018-1
David-Moog-Review-July-2018-2
David-Moog-Review-July-2018-3
David Moog
My name is Phil Bell and I am contacting you to commend two of your Equalizer Systems employees after a recent visit to your facility. I ordered and purchased a new Dynamax Isata 5 motorhome and shortly after delivery I found a fluid leak coming from my Equalizer pump assembly. I called Equalizer and talked to Randy who determined the unit needed to be replaced. He offered several options on how to get the warranty work done but was very helpful getting me an appointment at your facility in Elkhart after I told him we were making the trip from Georgia to Dynamax to get other warranty work done there.
Once we arrived at your facility, Randy personally came out to meet us, showed us where we could hook up and camp for the night and even gave us a list of restaurants in the area. Later in the afternoon, Randy came by our motorhome and told us he was able to get one of his guys to replace our pump ahead of schedule! Before we knew it, Alex arrived and had the pump replaced in approximately fifteen minutes! We went ahead and spent the night at your facility and were able to get to Dynamax early the next morning ahead of schedule! This kind of Customer Service and Customer Focus is unheard of in the RV business. Thanks to Randy and Alex for taking care of us in such a manner and thank you and your company for having these two professional and dedicated employees in the jobs they are in! I love your products and I will tell everyone that will listen how much you and your people stand behind them!
Phil Bell
This is my 1st time dealing with Equalizer for service parts. I want to let you know that the service I received was excellent. And getting the parts out right away with the tracking information is just superb! Lots of companies "say" they will do this but they fail. Thank you and everyone for the great service.
Stephanie
Thank you Nick and Jamey for your awesome service and meeting me on your days off so I could deliver and pick up my 5th wheel RV. The 6 point system I got is fantastic! One of the best upgrades to do if one doesn't have an auto leveling system. Let alone the time saved setting up camp after a long drive.
Michael